SMART KIDS RULE!!!

Remember to click on the photo to see a larger view.

Arthur B. was awarded a medal for "Best in 5th Grade year end Math Test" 2018 and completed 5th Grade requirements at Los Cerritos Elementary School.

And Arthur's Mom shared a great picture with us of Arthur raking & clean-up in their families yard.


David

Kyo-sa-nim received a Certificate of Achievement, from the Long Beach Unified School District, in recognition of Passing One Advanced Placement (AP) Exam.

Zoey is earned Writer Award as "Best Grade Level Writer of the Month" at Whittier School, from Mrs. Wong.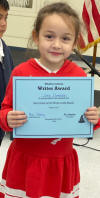 Derrick Kyo-sa-nim's Awards - click pics to see awards >>

Dylan Special Academic Award >> click here

Francis B. was presented with the Principle's Award for scoring 100% on ALL Math Tests at Garfield Elementary School.


Channary was Awarded Certificate of Achievement for Academic Excellence, see Certificate >>